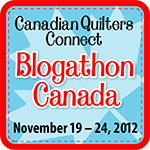 Welcome to
Sew Sisters Quilt Shop's Blogathon Canada
. Isn't wonderful to connect with sew many fellow Canadian bloggers. So far we have visited BC and the Maritimes. Today we celebrate Alberta! (Go Stamps Go!)
Calgary, AB
I have been living in Calgary, Alberta for almost 20 years now, originally from Ontario.
I have been crafting all my life really. My favourite activity in kindergarten was making lacing cards! In Grade 4 we made quilt blocks to put together for a quilt which we then sold raffle tickets for. In grade 5 I took knitting lessons. I taught myself how to embroider in Grade 6. In Grade 11 I took crochet lessons in night school. My hands have always been busy.
I started quilting in 1991 before my first child was born. I was inspired by my
great grandmother Genevieve.
(see tab at the top) She made wonderful quilts and I am blessed to have many of them.
Oh gosh I am not sure how many quilts I have made over the years, lots. I don't have too many UFO's.
I love makin scrap quilts. Here are a few of my scrap quilts.
Thanks for stopping by my blog. Leave a comment and let me know where you are visiting from. I have a blog milestone coming up. Won't you stick around, become a follower. (I think a giveaway is in the making).
Happy Stitching
Lee